Samples
Teak is an elegant and attractive wood with excellent texture and tight grains that give it its moisture resistant properties. It also requires very minimal maintenance efforts. Teak wood furniture is always a good choice to accent a home, especially the outdoor living areas. The best thing is that teak furniture finishing can be modified to match the overall home aesthetics.
Samples of Teak Furniture Finishes
The innate beauty of teak can be further enhanced to complement any home design with the use of sealers that will bring out a desired shade. Your teak furniture color will determine whether the overall look of your home looks tied together or not; therefore, it is essential to select the right shade. Here are some samples of our teak furniture finishes: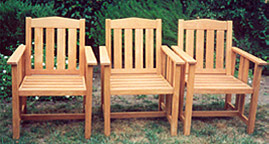 Natural Color
Natural finish. This most basic stain brings out the natural tawny gold color of teak and displays the beauty of its grains in full splendor. Natural teak furniture finishes exude a bright clean look that is perfect for lawn furniture. The color complements well with the greens and blues of the outdoor environment. When used on indoor furniture, natural finish gives off a calm, yet modern vibe that is most suitable for a minimalist theme.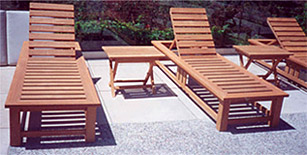 Honeytone Color
Honeytone finish. The honeytone finish is a slightly darker, richer stain than the natural finish that is also suitable for outdoor furniture. It is the most common teak furniture color on deck and lounge chairs surrounding a pool as it does not show too much of the water stains. Honeytone finish also conveys a rustic vibe that can carry well into the indoors.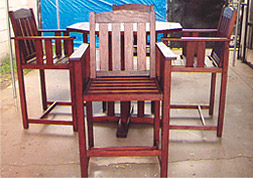 Dark Brown Color
Dark brown finish. For a really elegant and more traditional look, consider going for dark brown teak furniture finishes. The dark brown finish is a very versatile color that can be fitting for both furniture and cabinetry, such as those for an outdoor kitchen matched to an outdoor dining set as well. This type of finish is perfect if you're trying to create an outdoor living space that will function as a place to entertain guests since it can be easily converted from casual to a more formal setting.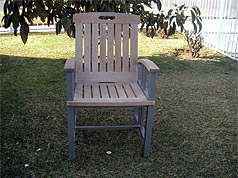 Silver Gray Color
Silver gray finish. Teak naturally takes on a grayish patina as it is continually exposed to sunlight. Placing your silver gray finished teak furniture amidst a profusion of flowering shrubbery will provide a very charming aspect to your garden.
Of course, when you are trying to determine what teak furniture finishing you will be using, the main consideration is always on the existing color themes of your home, unless you are doing a total re-decoration. Aside from the paint on the structures, consider also the existing foliage surrounding the home to create a totally harmonious environment.
Teak Finishing Made by the Experts
Teak Furniture Cleaning & Sealing can help maintain the beauty of your teak furniture finishing. We specialize in finishing teak furniture in various choices of shades that will give your home an elegant, well-designed look. We use only the most premium sealers that will protect your furniture from sun, rain, and harsh environmental conditions so that your furniture will be able to serve you for years and even decades.

For expert services regarding teak furniture cleaning and teak furniture finishes in Los Angeles, contact us via phone or email.


Click on the images below to view a larger display.


Photo 1

Photo 2

Photo 3

Photo 4

Photo 5

Photo 6
We Provide Services to the Following Cities, Towns and surrounding areas in CA: